This tutorial shows you how to download any streaming video from most video hosting sites like Youtube, Novamov, Dailymotion, Movshare, Stagevu etc. directly to your hard disk. I for one...i like watching movies online rather than to download them...

So this tutorial did help to get those movies to my desktop...the benefit of watching movies before downloading is that...when you watch them first, you can tell if the movie is nice or not nd its worth being downloaded... Now to begin::: let's catch up on some few things...

When we watch a movie or any video from a site, the movie is usually downloaded into the browser cache or in "TEMP" directory depending on site nature.


Now if we use any usual video download tool. After watching the movie, to download that movie or video is waste of both time and bandwidth because its already in our system if we yet not closed that video page.
**Remember, these tips only work when your video page is still opened in your browser**


To be able to do this...first download VideoCacheView. "Don't worry the size is just about 78kb". Scroll down the page to download the .zip file. Just run it and it will show a list of video files that already exist in your browser cache. In this case, we need to find out the file where extension is ".tmp".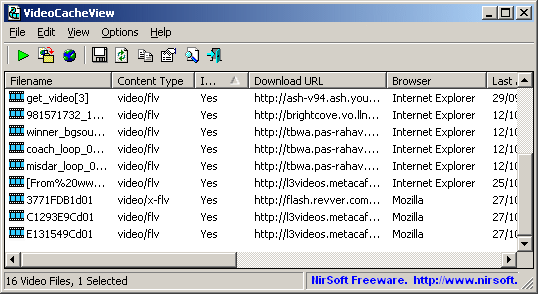 Click on that file and then save it using save button/ "copy selected files to"(second button located in standard toolbar). That's it. Don't forget to note down where you saved it. Just rename the file to whatever you want...
Note, you can play selected video on VideoCacheView to make sure the video you going to save is the right one (there is a play button located on standard toolbar).
jux comment below...